CIP Pool
The CIP pool offers to the Faculty's students free use of computers with fast internet connection, printing at favourable prices, and other IT services. Various computer classes and practice sessions for numerically oriented courses are offered in the computer labs.
More information about the usage and the offered services at the CIP pool can be found here.
The student computer pool is financed by the Computer Investment Program (CIP) of the German federal and state governments with the goal of spreading computer use in education.
Location & equipment
Over 50 computers are available at rooms H037 and H022 at Schellingstraße 4. External access to the workstations is possible from room A115 at Theresienstraße 37. More information can be found at Hardware equipment of the CIP pool.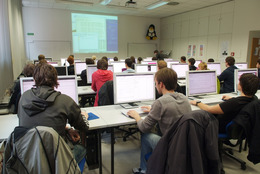 CIP 1 and CIP 2: This map shows the location of the CIP 1 and CIP 2 rooms.
Contact
The CIP pool's computer administration group consists of employees and students of the Faculty of Physics. The group is in charge of the administration and support of the IT services provided. We aim at being available to you in the CIP 1 administrator room at all times during the opening hours.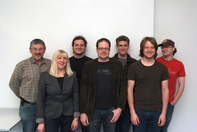 Ludwig-Maximilians-Universität München
Faculty of Physics
Room H037 (CIP 1)
Schellingstraße 4
80799 München
Telephone: +49 (0) 89 / 2180 - 2405
Fax: +49 (0) 89 / 2180 - 3391
E-mail: helpdesk-cip@physik.uni-muenchen.de
Opening hours
Mo - Fr, 9 a.m. - 8 p.m. (during the lecture term)
Mo - Fr, 9 a.m. - 7 p.m. (during semester breaks)
(Please note that no administrator is available between noon and 1 p.m.)