Site-support services
Site-support services are mainly provided by the computer administration group's on-site staff. However, the central ticket system allows for requests to be processed also by other members of the computer administration group (RBG).
In the Sys Admin meetings, which are held once per semester, RBG staff members inform the administrators of the chairs and work groups about the central services - which are available to the whole Faculty - and the site-related services.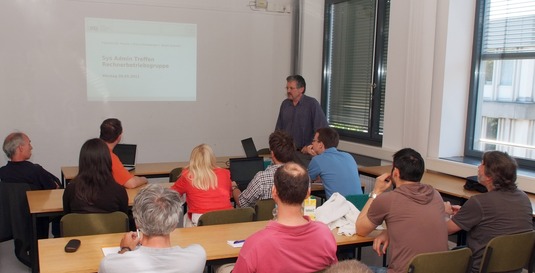 All in all, the RBG staff coordinate very heterogeneous infrastructures, concerning both hardware and software. The hardware includes standard desktop and server hardware, storage systems, fibre channel and server room infrastructures. Our responsibilities in the field of software infrastructure cover Linux desktops and servers under Ubuntu and Scientific Linux, Windows desktops and servers, as well as MacOS X systems, and laptops of all kinds.

At the different sites the RBG staff attend to the users' computers, printers, their connection to experiments, and a lot more. The RBG's on-site staff will always be happy to answer your questions in person.
In particular, the RBG staff gives advice on questions relating to software and hardware. The RBG is also responsible for the centralized ordering of computer and software components.
The RBG team aspires to keep the overall infrastructure as homogeneous as possible although each site has its specific needs that may require customized solutions. We provide such solutions and assist the users in the operation of them.
Theresienstraße site
The chairs of Theoretical Physics and Meteorology, which are located at Theresienstraße, together form the largest Linux desktop infrastructure within the Faculty. The big server room also houses computer clusters that always operate under full load for the solution of numerical problems.

Garching site
At the Garching site, the RBG staff support both the computer infrastructure of the different chairs (which are housed in one building) and that of the accelerator. The RBG's support covers Linux systems, Windows desktop and measurement computers, special PowerPC measurement computers, and the Faculty's small server room. The RBG also handles the specific demands arising from the work groups' collaboration with the CERN in the global grid environment.

Salinenhof site
This site provides support for the

CIP pool
This computer pool makes available Linux work places and computing capacity to all students of the Faculty. In addition to RBG support, assistance is provided by student aides.

Administration office (Geschäftsstelle)
The administration office's specific demands, which are due to its administrative orientation, are met by special Windows installations.

Chairs at the Salinenhof
The experimental physics chairs at Salinenhof are mainly supported by chair administrators, which are however also managed by our central directory infrastructure.